Deep in the heart of high-tech Silicon Valley, there's a woodworker chopping, shaving and carving by hand.
Bernie Ross prides himself on doing things the hard way. He's also teaching others how working with their hands can add humanity back into society.
His art — from furniture to musical instruments to four-foot dolls — strikes a chord with people looking to escape from the world of machines and machine-driven perfection.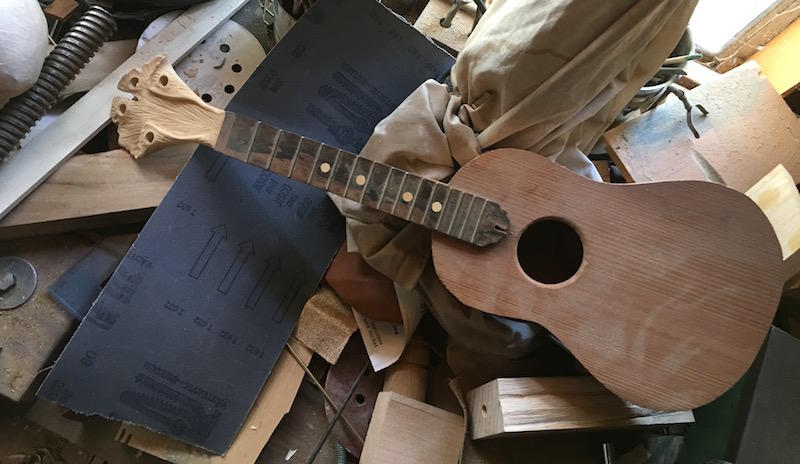 "I think there is a yearning for something that's solid and handmade, and feels that way," Ross says. "And I tell the people 'all I can offer you is my humanity, and that it will look like a human being made it. I can guarantee that.'"
Ross makes things with as few machines as possible. That means his woodshop – the repurposed garage of his central San Jose home – is filled with axes and saws with homemade handles. Some are carved to look like hooves or horns. Ross has created the leather holsters for his work knives himself. He takes handcrafting very seriously.
"For lack of a better way of putting it, you do more woodworking with hand tools–whereas with power tools it's 'zip-zip'," Ross says. "When you're planning and you're chopping and you're getting a good workout, you develop a very intimate relationship with the wood."
It's that knowledge, and the opportunity to work with real tools that drives students to Ross' garage.
Amy Kerdock engineers surgical robots during the day. To her, Ross' sawdust filled garage is an escape. She's one of Ross' students, and working with her hands gives her a meditative place to create something new.
When the tree Kerdock met her wife under was cut down, she saved pieces of it. Now, she's making that dead wood into gifts for family members, and furniture for the couple's shared home.
Working with wood — and Ross — helps Kerdock find new perspectives, too.
Right before cutting open the wood from that tree, Kerdock remembers Ross solemnly telling her "you're about to see something that only God knows what it looks like". The inside had never before been exposed, and when it was opened, it was as lovely to her as the relationship foraged under it.
"It was beautiful," she says.
Using old skills to show new worlds to students like Kerdock is as rewarding as the art he creates, Ross says. It's a way to protect knowledge that craftspeople developed over generations.
"I firmly believe that the future of traditional woodworking with hand tools, or a combination of hand tools and power tools, is in the hands of amateurs," he says.
Click Here to Discover the Single Most Important Issue that is Hurting the Quality and Enjoyment of your Woodworking Projects Right Now...