CULLODEN, W.Va.
It all started out as a hobby, but it has now become an old-fashioned woodwork business with a high-technology designing twist.
"Two years ago, around Christmas, I started making some personalized hand-made signs for people and gave them as gifts," said Heather Bird of Culloden. "People saw what I had made and wanted to order items and actually pay for them."
Bird's hobby turned into a new, home-based business, "Pine Creek Signs," which specializes in hand-made, custom carved, personalized and hand-painted signs.
"I was honored that people liked what I made and a few months later, the fun really began," Bird said.
She, along with her husband Darwin, son Tyler and brother-in-law Troy Bird started brainstorming and coming up with ideas for the new business that would offer unique signs and plaques made out of wood that people would enjoy, appreciate and want to buy.
"We just started drawing stuff out, sawing wood and creating all these projects," Heather Bird said. "We put our creations on Facebook and people just started buying and placing orders."
The business has now expanded to include out-of-state orders.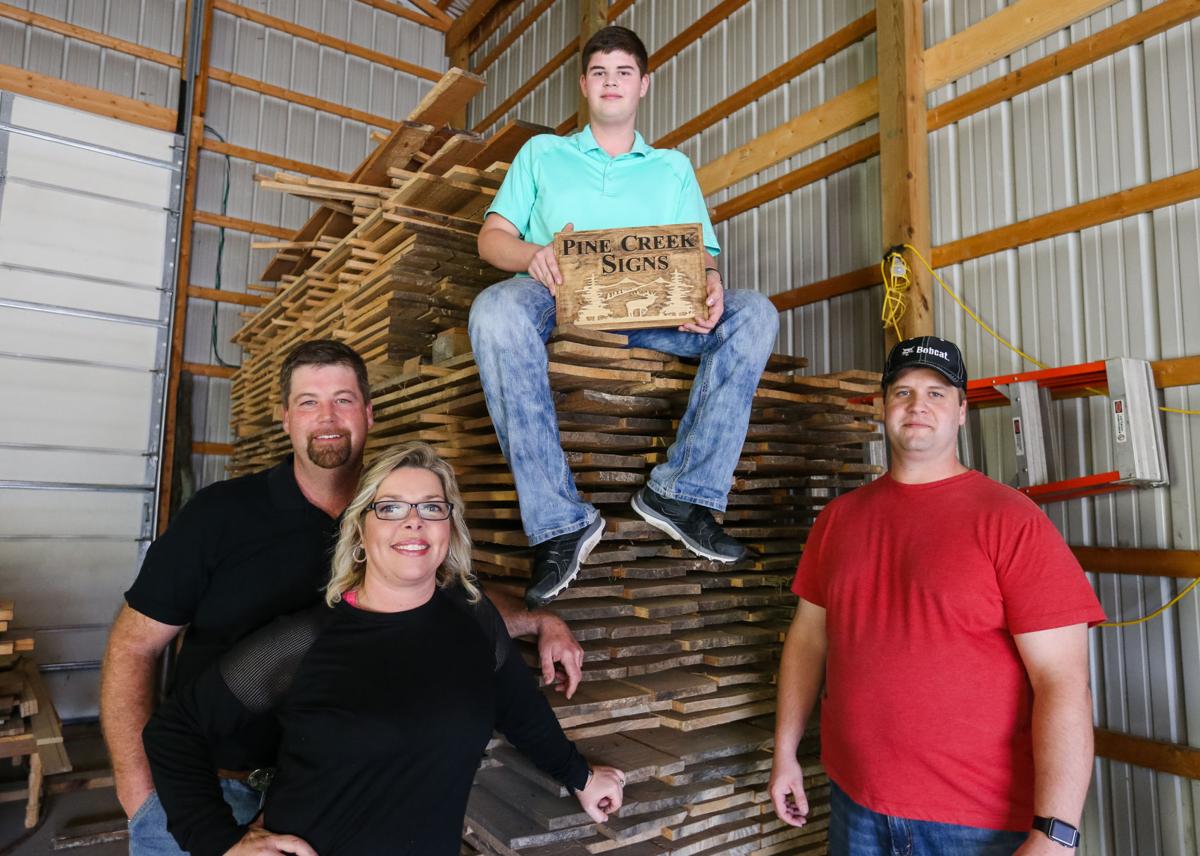 "We have shipped orders to New York and Florida," Heather Bird said. "It has really taken off, and we continue to see the business grow over time."
Heather Bird, 39, is a Barboursville native, and her husband Darwin, 42, is a native of Milton.
"I am a nurse at Cabell Huntington Hospital, and we have lived in Culloden for many years," she said. "Darwin and Troy have an excavating business called Bird Excavating."
The new business is lots of hard work, but the family finds time to get everything done. The signs range in cost from $40-$150, and the family produces 25-35 signs per week.
"What we do is hard work, but we all enjoy working together and we make it fun," Heather Bird said. "It is a family operation, and it takes a team to prepare for a project."
Each family member has a role in the operation.
"I do a lot of the staining, all of the painting and finishing work," Heather Bird said.
Darwin Bird operates the saw mill and cutting the wood, along with Troy Bird. Son Tyler helps in all areas but says he really enjoys the computer design work.
"I have always had an interest in wood working, but when we added the computer aspect to it, then it appealed to my graphic design interests and all of it went hand in hand for me," said Tyler Bird, a 15-year-old student at Cabell-Midland High School.
After the design work is drawn on a computer, Pine Creek Signs sends it to customers to get approval before any of the hand-made work begins.
"It can take five days to two weeks to complete a project, depending on the size, detail and the time of year the order is placed," Heather Bird explained.
The Bird family calls Pine Creek Signs an "old-school" operation with a high-tech designing twist.
Pine Creek Signs does not use store-bought wood.
"It is cut on our own sawmill, stacked and dried in our own warehouse, planed, cut to size, routed, sanded and we paint and stain it just about any color the customer wants, unless they want it natural, of course," Heather Bird said. "We also make signs out or reclaimed wood."
Today, the small business makes signs as gifts for anniversaries, weddings, birthdays as well as decorations for both the home and office.
Pine Creek Signs also has made signs and desk plaques for businesses, including a local hair salon, local law firms and many others over the past two years.
"We sell personalized plaques for the West Virginia State Police in the PX at the academy in Institute as well," Heather Bird said.
Spring and fall are the busiest seasons for the new company.
"Lots of weddings are in the spring and we get lots of orders in September, October, November and December for Christmas gifts," Heather Bird said.
"We have even made trophy plaques for events," said Darwin Bird. "We made over 40 plaques for the Hog Rally last year."
Heather Bird says the business is also helping with community projects.
"One of our more memorable things was helping a young man do a project for his Eagle Scout," Heather Bird said. "He had to do a community service project and he needed some help making new walking trail signs for the Huntington Art Gallery. We brainstormed ideas and we worked hard to help him get the job done. It feels good to help people, especially young people who strive to make a difference in the community."
Starting your own woodworking business is not as difficult as you think! Click Here to See How.
Click Here to Discover the Single Most Important Issue that is Hurting the Quality and Enjoyment of your Woodworking Projects Right Now...